In the labyrinthine world of real estate, few experiences are more frustrating, and unfortunately common, than gazumping. This phenomenon, prevalent in the UK's property sector, is an unwelcome surprise to buyers and a practice often misunderstood.
In a survey done in 2022 by Market Financial Solutions, an estimated 31% of people in England and Wales who had bought a property since 2012 said they had been gazumped at least once.
As real estate specialists, we aim to demystify gazumping, examine its impact, provide insightful commentary, and offer practical advice to navigate this real estate conundrum.
Understanding Gazumping
Gazumping is a situation in which a seller, after accepting an offer from a potential buyer, entertains a higher offer from a different party, leading to the first buyer being 'gazumped'. This typically occurs during the period between the acceptance of an initial offer and the exchange of contracts – a period fraught with potential hiccups and legal complexities. Gazumping, though a source of consternation for buyers, is currently a legal practice within England and Wales.
The Impact of Gazumping
The impact of gazumping extends beyond mere disappointment. It has potential financial consequences for the initial buyer. Buyers often invest significant time and money in survey costs, solicitor fees, mortgage arrangement fees, and more, only to lose out on the property. It's not just the buyer who suffers; gazumping can introduce delays and complications that can cascade down the property chain, potentially causing deals to fall through and leaving all parties involved back at square one.
Why Gazumping Occurs
The volatile nature of the UK property market fuels the gazumping phenomenon. With property demands often outpacing supply, sellers find themselves in a position where they can court higher offers, even after initially accepting a lower one. Gazumping becomes more prevalent in a 'seller's market', where competition among buyers is fierce, and properties can rapidly increase in value within a matter of weeks.
Mitigating the Risks of Gazumping
While eliminating the risk of gazumping entirely might be difficult, there are several strategies buyers can employ to reduce their likelihood.
Speed Up the Process: Time is of the essence. Aim to expedite the legal process by having your mortgage in principle and solicitor ready to begin the conveyancing process immediately. Being organised and proactive can help to minimise delays and reduce the window of opportunity for gazumping.
Develop a Relationship with the Seller: Personal rapport can often make a difference. Getting to know the seller, where appropriate, can foster mutual respect and reduce the temptation for the seller to entertain other offers.
Hire a Good Conveyancing Solicitor: Conveyancing solicitors play an instrumental role in the property purchase process. They handle all the legal aspects and can guide you through the complexities of the system. A proactive, experienced solicitor can keep the transaction moving smoothly and swiftly, reducing the opportunities for another buyer to swoop in. Read our article on what conveyancing solicitors do for the buyer.
Lock-In Agreements: You could propose a lock-in agreement to the seller, which prevents them from accepting other offers for a specified period. However, these are not commonly used in the UK, and sellers are under no obligation to agree to them.
Insurance: Some companies offer insurance against gazumping, which may cover certain incurred costs. It's worth considering this, particularly in hot property markets.
Gazundering: Gazundering, the act of lowering an offer after it has been accepted, could be a useful countermeasure to gazumping. While this practice is generally viewed negatively, it could potentially be an effective response if you suspect a seller may be open to other offers.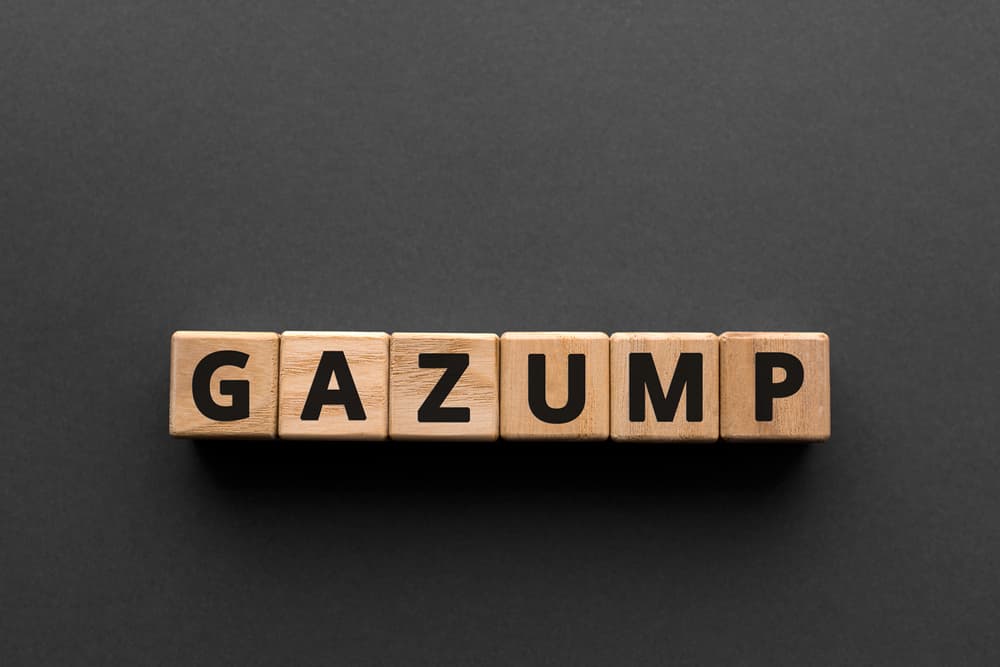 Gazumping: Is it time for a Reform?
Gazumping continues to spark calls for reform, with critics arguing that the practice disrupts the property market and creates unnecessary financial and emotional distress for buyers. Australia and Scotland have introduced measures to mitigate gazumping, offering potential templates for reform. For instance, in Scotland, offers are legally binding once accepted, significantly reducing the potential for gazumping.
In conclusion, navigating the waters of the UK's real estate market can be a daunting task, further complicated by practices like gazumping. By understanding this phenomenon, and preparing strategically, potential buyers can take one step closer to securing their dream home with fewer hiccups along the way.
---