Saying goodbye to a property is never an easy decision, and the process of selling your home might seem daunting at first.
Getting the right buyer to connect with your home and visualise themselves living in the space along with their family is more than pure luck – it takes hard work and preparation. You need to create a welcoming and visually appealing environment so that you showcase the best parts of your property and get the best price.
To help make your job easier, we've put together our key tips to prep your home for sale and ensure you sell it faster and for the highest value possible:
Declutter the space
One of the first steps before inviting any potential buyers inside your house is to declutter the space. Remove any bulky or heavy furniture that makes the room feel crowded, organise your items in storage boxes and remove any household rubbish.
You should still leave some personal items, such as pictures on the walls, to maintain a visually pleasing space and allow people to envisage what the property would look like if they were living there.
Maximise your kerb appeal
If you're thinking of selling your home, raising your property's kerb appeal is an essential consideration. Surveys have found that sellers will usually be offered £57,000 less than the asking price if their property has inadequate kerb appeal.
Before putting your property up for sale, make sure your windows are in a good condition, the front garden is tidy and well maintained, the pathways are clear and the fences are painted. Updating the exterior of your home can do wonders and an enhanced kerb appeal will significantly increase the value of your property.

Fix and clean
Needless to say, many buyers will want to move into a property kept in very good condition. Before selling your home, you should take the time to do any minor repairs, such as cracked tiles or holes in walls.
If you have a garden, make sure you clean the patio and furniture of dirt, cut the grass and plant some flowers to create a lovely environment.
First impressions always count, so make sure your property is spotless before any viewing. Get rid of limescale, remove any flooring dirt and eliminate any bad smells.
Improve your lighting
Although often overlooked, lighting matters and it can make a huge difference to your living environment. Open up the blinds and let the natural light come in before any viewing. If you're selling your home during the winter months or have a viewing during the evening, you can turn on the table lamps to add some brightness.
A bright room appears more spacious, so make sure there's plenty of light in your house before you invite any potential buyers in.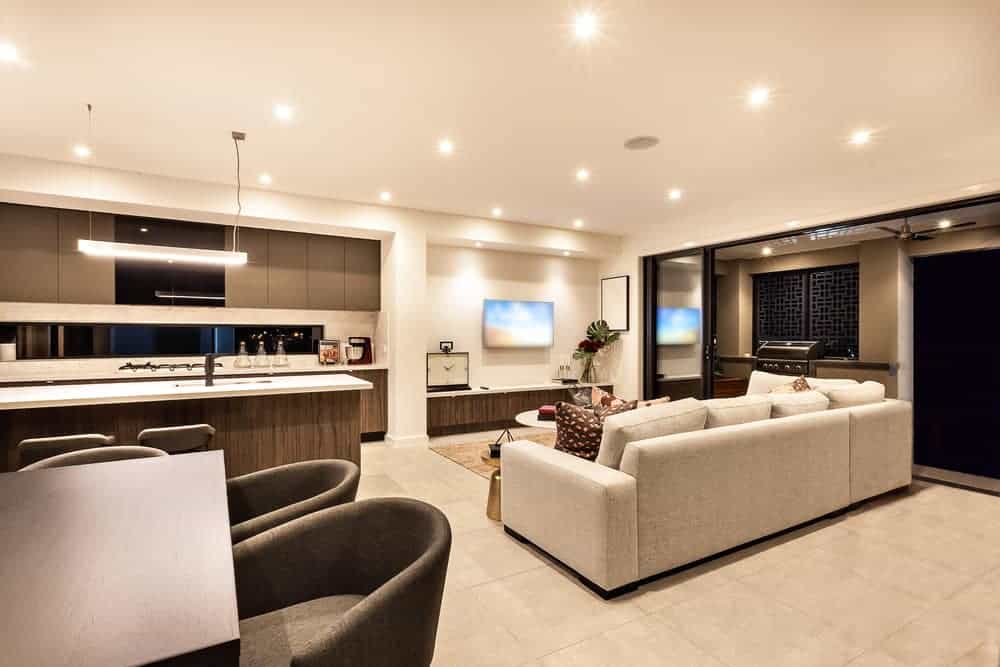 Build focal points in your house
Creating focal points in your house can make your property more attractive and divert the buyers' attention to the key benefits of your house.
Do you have an interesting fireplace? Make sure you highlight that with an interesting piece of artwork to match that. Do you have office space? Make sure you add some plants and decorative items to draw the viewer in – the more creative, the better.  
Remove personal items
Removing personal items when preparing a home for sale is important because it helps potential buyers imagine themselves living in the space. Personal items can include family photos, personal artwork, religious symbols, and other items that reflect the current owner's tastes and preferences. While some personal items can add character to a space and make it feel lived in, too many can be overwhelming and make it difficult for potential buyers to imagine themselves living in the home.
When removing personal items, it is important to strike a balance. Keep some items, such as framed family photos, that help create a warm and inviting atmosphere. However, remove items that are too personal, such as family heirlooms, and items that may be controversial, such as political or religious symbols.
Consider a professional home stager
A professional home stager is a trained expert who specializes in preparing homes for sale. The goal of a home stager is to help the homeowner highlight the best features of their home and create an attractive and inviting environment that appeals to potential buyers.
Working with a professional home stager can be a smart investment for homeowners who want to sell their homes quickly. Stagers have the experience and expertise to create a space that is both visually appealing and functional, which can make a significant impact on the final sale price.
About Us
Are you looking to sell your property? Look no further!
By having Gorvins Residential manage the selling of your house, you can be safe in the knowledge that all the resources you need are available from one direct point of contact. As a customer-focused conveyancing selling team, we make it our mission to protect your affairs and your assets.
To get a quote for selling your property you can call us on 0161 930 5350, e-mail enquiries@gorvinsresi.com or fill in the online form.
Additional Ressources
---