It can be expensive to get a foot on the property ladder in today's housing market. Shared Ownership has been one such route and with plans from Housing Secretary Robert Jenrick, it could make things easier for first-time buyers.
Shared Ownership is a scheme designed to help struggling first-time buyers, who for one reason or another, aren't able to raise the capital required to buy their desired house. With the Shared Ownership scheme, you purchase a share of your house or flat (anywhere from 25% – 75% of the property) from a housing association or financial institution; you then pay rent on the remaining share you do not own.
It's important not to get shared ownership confused with shared equity, which allows buyers to take out a low or no-cost equity loan from the government (up to 20% of the purchase) to bolster their deposit in order to get a more favourable mortgage deal.
First and foremost, it's a more affordable way into a very unaffordable housing market. A 10% deposit is still the standard (although some 95% mortgages are becoming available again), although the value of that 10% deposit is normally lower as it is based on the value of the share being purchased rather than the value of the property. Also, the combined cost of the mortgage and reduced rent combined is usually cheaper than renting or paying a full mortgage.
As the property is leasehold, you won't be on your own when it comes to maintenance and repairs. In the majority of cases, the landlord will be responsible for the repair and maintenance of the property whilst you are renting a portion, however, once you purchase the freehold/100% you will then become responsible for the costs of the repairs and maintenance – unless it is a flat in which case the landlord is normally responsible for the repairs and maintenance of the structure of the property.
Yes, depending on the terms of your lease, once you have lived in the property for a certain period of time, you have the option to gradually increase your share of the property until you own it outright (if you choose to go this high), this process is called 'staircasing'. You can do this one of 3 ways:
Paying for the increased share in cash
Borrowing more from your current lender, or;
Take out a bigger mortgage from a new lender and use the money to pay off your current mortgage and use the leftover funds to purchase the extra share.
Additional shares of your property are purchased at a price equal to the relevant proportion of the current market value of the property. You will need to obtain a valuation from a Royal Institution of Chartered Surveyors (RICS) accredited surveyor (this is important, a valuation from a surveyor who isn't a member of the RICS will be void).
Stair-casing involves changes to your existing lease so you will need to instruct a solicitor so that you are ready to act when you receive the valuation report (the valuation report will be valid for three months). If you use the solicitor who originally dealt with your purchase as they will most likely have a lot of your details regarding your property already.
Under plans revealed by Housing Secretary Robert Jenrick, the government will be reviewing a new national model, whereby shared-ownership homeowners can potentially buy increments of 1% – compared to 10% currently.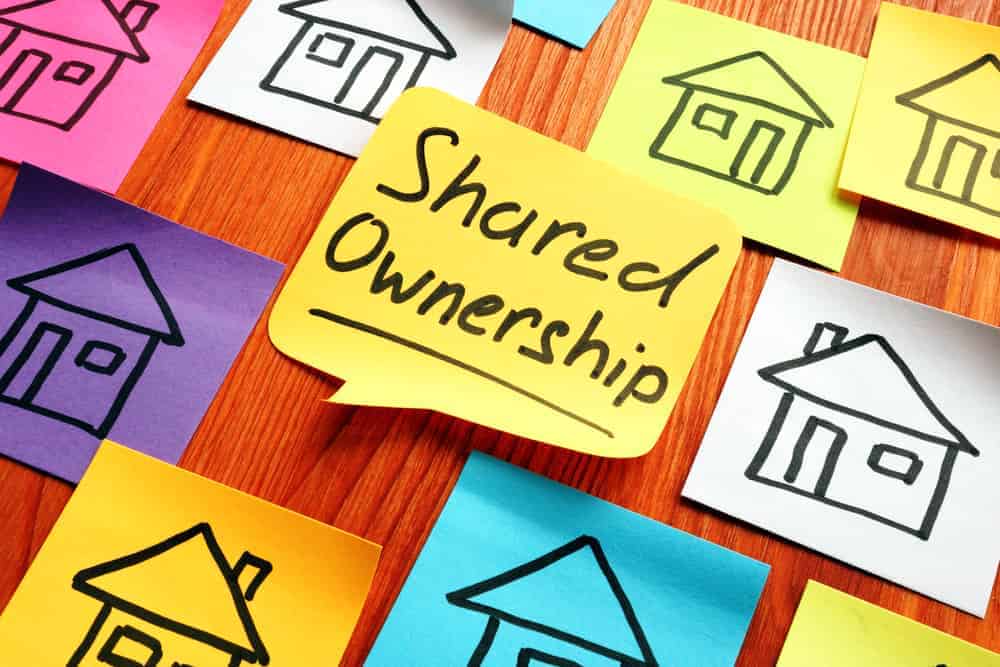 In order to be eligible for the Shared Ownership scheme in the UK, applicants typically need to meet certain income and credit criteria. They may also need to be first-time buyers or be unable to afford a traditional mortgage. In addition, applicants may need to meet certain residency requirements and be unable to afford to buy a suitable home on the open market.
There are various fees and costs associated with Shared Ownership that buyers should be aware of. These may include upfront costs such as a deposit, legal fees, and valuation fees, as well as ongoing costs such as service charges, ground rent, and maintenance fees.
While Shared Ownership can be a good option for some first-time buyers, there are also potential downsides to the scheme that buyers should be aware of. For example, shared ownership properties are typically leasehold, which means buyers may need to pay ground rent and service charges and may be subject to certain restrictions in the lease. In addition, there may be limitations on subletting the property and making alterations to the property.
What to watch out for…
With Shared Ownership, there are likely to be restrictions regarding subletting. In the majority of cases, renting is not allowed and even if you are, it will typically only be allowed for short periods of time.
As all shared ownership properties are leasehold, there are likely to be restrictions in the lease when it comes to making any structural alterations to your home, in some cases the lease will require you to ask permission for redecorating as well.
When you decide to sell your home it can get complicated, you should always notify the social landlord of your intention to sell. The Landlord (or ex-Landlord at that time) is likely to have the buy-back/first refusal right for a period of time after staircasing to 100%. But if you own less than 100% the landlord generally has the right to nominate a purchaser (some social landlords will have an applications list and they work down this, others invite applications).
Suppose your housing provider fails to find a buyer over a period of time (this is normally 8 weeks from being notified of your intention to sell). In that case, you are then free to market your share of the property yourself or through an estate agent. However any potential buyer will need to fulfil the housing association's eligibility criteria for Shared Ownership, as a result, your pool of potential buyers will be reduced.
We have a team of shared ownership solicitors who will be able to guide you through the process. Give us a call today at 0161 930 5350 or email us at enquiries@gorvinsresi.com and we will be able to give you a quotation.
---