Buying a property at auction can be a great way to get a bargain for your dream home. However, there are some risks you need to be aware of.
Buying a property at auction is becoming an increasingly popular way for clients to buy and sell properties. At Gorvins we work on a case-by-case basis to review auction packs, but here are some top tips to keep in mind if you are considering purchasing at an auction remember once the hammer falls, you're in a legally binding contract.
Exchange
At most Auctions, contacts are deemed to have exchanged as soon as the hammer has fallen. Consequently, if you are the successful bidder you are contractually obliged to buy the property no matter if you have reviewed the auction pack or not. In more modern Auctions, once the hammer has fallen you must pay a non-refundable deposit with the Agents with Exchange/Completion taking place within 28 days. Before you make a bid, make sure you know what the exchange position is.
Auction conditions
There is usually a set of 'special conditions' forming part of the auction pack. It is often the case that any unusual terms relating to the transaction are set out here. These special conditions will contain details of any leases or rent arrears affecting the property. They would also set out any additional payments to be paid at completion, including; auctioneer's fees, buyer's fees and the reimbursement of search fees. Ensure that you are familiar with these additional costs before deciding on your maximum bid amount.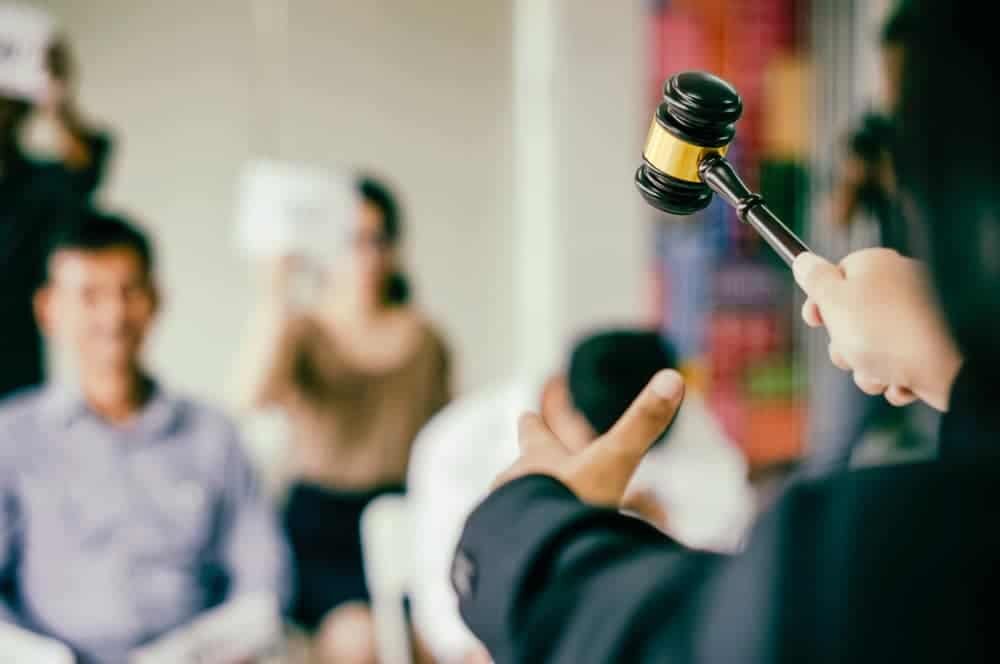 VAT
You may need to deal with VAT registration and the submission of an option to tax between exchange and completion, this will again be found in the auction pack. Take note of short completion dates as these may not give you adequate time to receive your VAT paperwork, this should be factored into any bid that you make.
Searches
Sellers are not obliged to provide searches within the auction pack, so these may be missing or include minimal searches only. Your solicitor will be able to advise you on whether or not additional searches should be carried out. This is risky, as by carrying out these searches you will sustain a cost and are not guaranteed to be the successful bidder. However, you would be bidding on the property subject to matters that would have been revealed in these searches, so in many circumstances, it will be worth making this investment.
Set a budget
Before bidding on a property at auction, it is crucial to determine how much you are willing to spend. This budget should include not only the purchase price of the property, but also closing costs such as legal fees and stamp duty. By setting a budget beforehand, you can avoid getting carried away in the excitement of the auction and making a bid that you cannot afford.
Bidding strategy
Decide on a strategy for your bids before the auction begins. This could include determining how much you are willing to bid above the reserve price (the minimum price at which the property will be sold) and setting a maximum limit for your bids. It can also be helpful to have a clear plan in mind, such as only bidding on properties that meet certain criteria or walking away if the bidding exceeds your budget.
Seek legal advice
It is a good idea to seek legal advice before bidding on a property at auction, as there are often complex legal issues involved. A lawyer can review the auction pack and advise you on any risks or issues to be aware of, such as leases or rent arrears affecting the property or additional costs that may be incurred at completion. They can also help you navigate the legal process of purchasing a property at auction, including exchange and completion.
Completion
The completion date of when the purchase is going to take place will be stated within the auction pack. If you are a successful bidder you need to make sure that you will have adequate time to get everything in place and ready for completion. Before you bid, keep in mind that if you are using bank funding to assist with the purchase this may take some time.
If you've purchased a property at auction and would like an experienced, full-service conveyancing team to guide you through the rest of the process, give our Residential Property team a call at 0161 930 5350 or e-mail Enquiries@gorvinsresi.com to obtain a free quote.
---